Google Fusion Tables (or simply Fusion Tables) is a Web service provided by Google for data management.
Data is stored in multiple tables that Internet users can view and download. More information about Fusion Tables can be found
here.
Google Fusion tables is still experimental, but it's capable of storing spatial data using latitude, longitude coordinates for points or KML format for storing lines and polygons.
You can create new tables manually or you can export your measurements directly from MapPad. To export your measurements to Fusion Tables please:
1. Select 'Tools' from the menu.
2. Select 'Data Management' from menu 'Tools'.
3. Select 'Measurements' from menu Data Management sub-menu.
4. Select measurement you want to export to Google Fusion Tables and choose 'Export' function.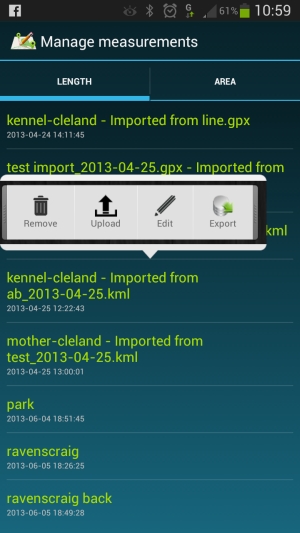 5. Choose Google Fusion option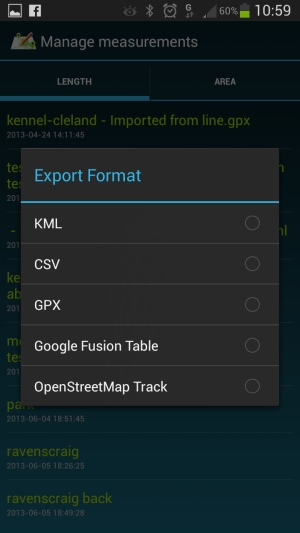 6. The warning screen will be displayed, press 'OK' if you wish to continue.
During the first export you need to give permission to MapPad for accessing your G Drive. These permissions can be revoke at any time in your Google Account Privacy Settings.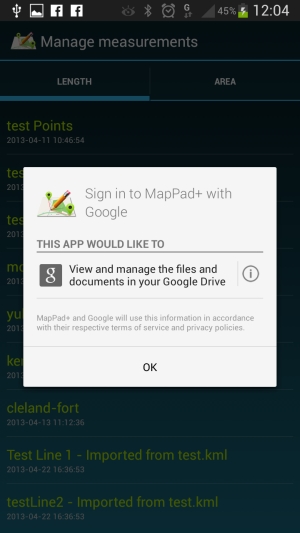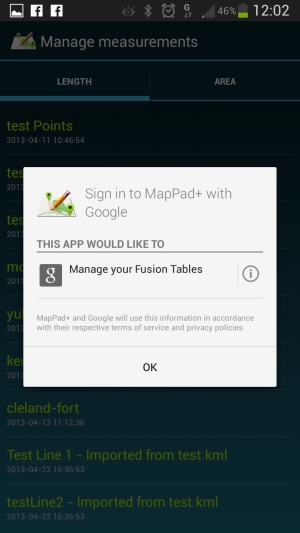 7. Provide email addresses you would like to share your measurement with or leave the field blank. Multiple addresses can be separated by coma.
8. The data is being exported, it will depends from your Internet connection and measurement size how long that process will take, usually is less then 30 seconds.
9. By default all Fusion Tables export are 'Private' which means that they can be seen only by yourself or people you have shared the export with. Optionally you can change the default permission to 'Public' in General Settings>Google.
10. After successful transfer you will see the new link added in the Measurement Details screen. Pressing it you will be taken straight to the newly created table.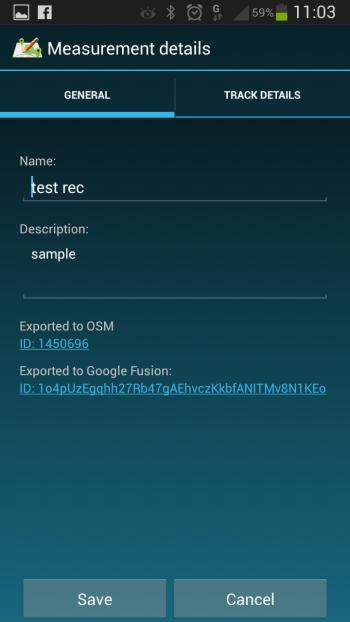 All MapPad export will be saved to the MapPad folder on your GDrive. If the MapPad folder does not exist it will be automatically created during the first export.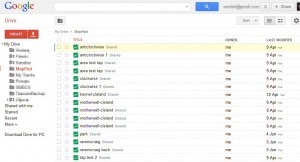 Ones the table is open you may wish to switch to the 'new look' using the link in top-right corner of the Fusion Table website: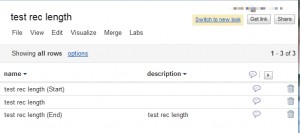 Then you can take advantage of exploring multiple menu options or switch to the map tab to see your measurement there.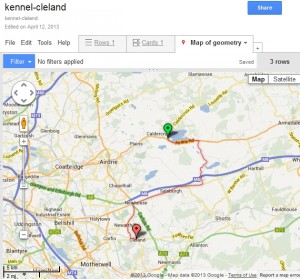 Fusion tables is a good place to keep your measurement save and accessible from different places. It's also convenient way of sharing the data with your partners or friends.